The hash tag getrowdie comes from the intentional misspelling of the word rowdy to be unique; like our crew. We are more than a race team and we're not your typical bike club. We are both a synonym and antonym for what we represent, rowdie is ingrained in our culture. It's balance we achieve with individuals who live life to the fullest with a work hard / play hard mentality. We have been know to be noisy and disorderly, but don't let that fool. We have contributed hundreds of volunteer hours to support our public lands and local community. 
---

The Colorowdies Mountain Bike Crew is a group of like-minded riders based in Colorado. We get rowdie on bikes and give back to MTB Community. We believe in stewardship, community and progression. We value fun, good vibes and friendship.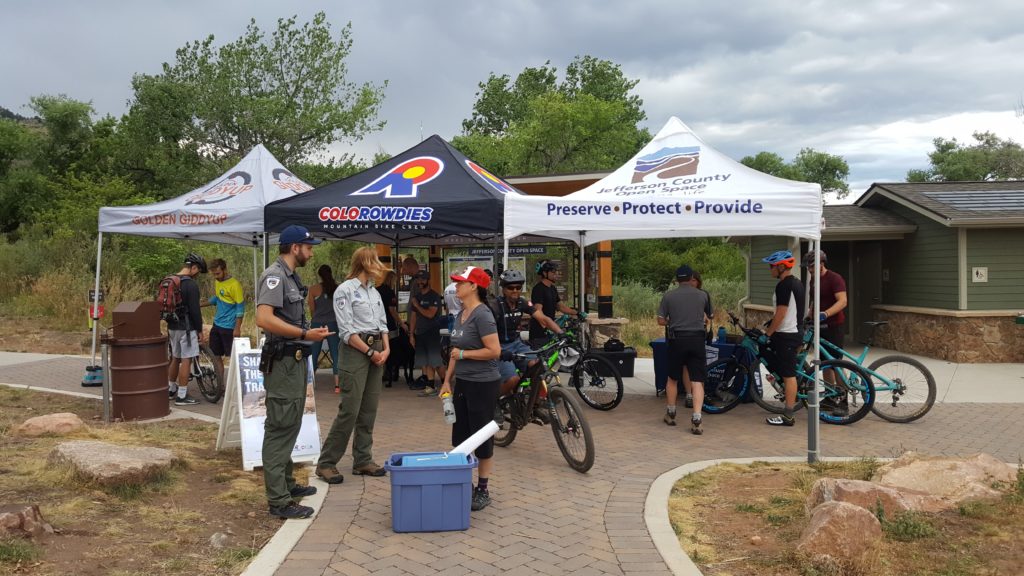 ---



We contributed nearly 700 Hours of Volunteer Trail Work in 2017! 
We give back to the cycling community through our financial contributions and volunteer efforts. We contribute to organizations such as Golden Giddyup, Trips for Kids, Lucky Bikes, Food Bank of the Rockies, COMBA, IMBA, Moab Trail Mix and other trail & land management organizations.

All members of the crew are asked to contribute their time and talent to accomplish our mission. Trail building and maintenance is one of our highest priorities. We encourage members to put in at least 8 hours of trail work each year. We do work on trails throughout Colorado and ask our members to be involved in their local communities outside of home base of the Front Range. 

Over 30 Group Rides and approaching 1,200 members for 2017!  
We were all new riders at one time. Many of us rode solo for years. We are now connecting mountain bikers through our open group setting. We welcome all new members to join our group rides, get in the conversation and encourage progression. We ask our new members to to get plugged in with trail work and to support of efforts towards preserving and growing sport. 

We use our recognition to inject positive growth into the Colorado Mountain Biking community for new riders, women, and young riders alike. Our group has a large female presence and our ladies are known for their advanced skills and supportive nature. We believe our influence has can have a meaningful impact and we want to leave a legacy we can be proud of for the next generation of Rowdies. Of of our leaders, Liz Cunningham is the official lady behind #ladyshred.  
Competitive Race team and top finishers at Big Mountain Enduro and the Golden Giddyup!
Improving skills is a big part of our culture. We our push limits and push each other to get to get stronger, faster, and more confident on the bike.  We offer a fun, encouraging, and competitive atmosphere where fears are overcome and confidence is increased.

We have a close relationship with VIDA and we encourage ladies to take a clinic with this great organization. 
---

We value many things but number one is, FUN. That's why we ride and we hope the experience we offer makes mountain biking even more enjoyable. The GOOD VIBES we spread encourage an energetic environment where riders should feel welcomed and encouraged. Through all this we create lasting FRIENDSHIPS with passionate people who care to make a difference in our sport and community. Mountain Biking can be intimidating our weekly social rides bridge the gap of having fun and going fast.