Over Labor Day weekend in 2013, I went on a solo mission to explore some iconic Colorado mountain biking. This meant making the 7-hour trek to a location I had never ridden – Durango. I had a truckload of food, camping gear and of course my trusty carbon, matte-black steed. My plan was to hit the road early Friday morning and ride Buckhorn/Captain Jack/Chutes in Colorado Springs on my way. Even more, I wanted to ride some of the Big Mountain Enduro stages in Durango, sleep under the stars and drink some beer.  I knew my recently acquainted friend, Carmen Mazzocco would be there and I hoped to get connected with her and her crew.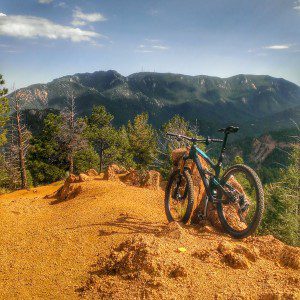 Day one was awesome; however, I failed to mention that my early morning departure quickly turned to midday, leading me to ride in blistering hot weather and arrive at my final destination of Durango after sunset. The Springs riding did not disappoint! The route was rad and I was super glad I kept it on two wheels as I bombed down the kitty litter sections. It was fast and flowy and it was HOT! I was spent with 5 hours to go. Good thing I had plenty of Skatch Labs and New Belgium fluids to keep me hydrated and motivated.
I love the open road. When I'm alone I set the cruise, put my music on blast and enjoy some time with my thoughts. The anticipation of riding in Durango had me pretty stoked to say the least. I pictured the descent of Kennebec Pass in my mind as I motored on.
Friday morning I met up with Carmen and company at Pedal the Peaks bike shop where we loaded up in Colin's
"Rebel Truck." And by loaded up, I mean we had 8 bikes and 8 people in 1 truck! We were going to ride the in-town stages of the BME before the racing started on Saturday. Having mostly ridden lone wolf for past several months I was nervous and stoked to ride new terrain with new people.
Moments later I hear, "Hey! Are you @tony_bentley_2.0?" A well-geared-up blonde lady asked me. "Yeah, yes I am. Are you @long_live_lemmon?" I replied. It instantly dawned on me – this is Liz Cunningham. She and I had liked each other's Instagram photos for a few months before, but we had never met in person. We shared the same bicycle and a similar affinity for hash tags. My stoke level was rising. I knew this was a rad crew.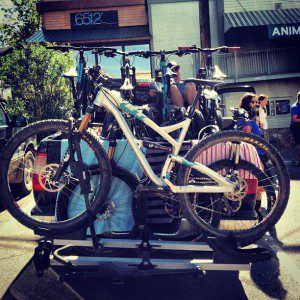 With people crouched in the bed and a tap on the roof we were off to infamous Raiders Ridge to pre-ride Stage 3. We arrived at the trail head where Liz had a fun game to break the ice with the new crew. "Who are you, where are you from and what is your favorite fruit?" I had no idea. I like most fruit but I eat a banana everyday (so I went with that).
Stage 3 was crazy! Probably one of the most technically challenging trails I've ever laid tires on. Secretly, I was glad I wasn't racing. The skill level of everyone blew me away. Leigh Bowe was sending drops I was nervous to square up. Liz was crushing the downs, and Tricia Shadell was ripping the techy turns. Gary Bischoff was calm and cool as he popped off every feature; this is his back yard and he's a pro. I followed him as best as I could. Arturo, the pint sized South American was cracking me up. "Are you fucking kidding me, bro?" became his signature line almost immediately.
The ride concluded after shredding down stage 4 with Holly, followed by beers and a late lunch in the river with her soon-to-be hubby, Brian Buell and his brother Michael. What an awesome day! Friday night continued with a mass mechanical party at the Shadell's house – new tires, checking sag, changing grips, swapping pedals – all by headlamp light in the driveway with people and bikes flowing in and out of the garage. Bikes, beers and tools everywhere. My wash bucket and cleaning utensils were a big hit. Everyone was looking dialed for the big event.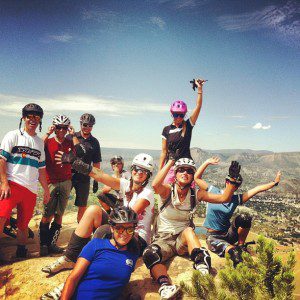 During the next two days, the majority of this group raced their hearts out on the physically demanding, backcountry course. Carmen and I, the non-racers for the weekend, rode Phil's World and Kennebec to Dry Fork on opposite days of the race. We rode hard all day, fueling up with plenty of protein and carbs (bacon and beer).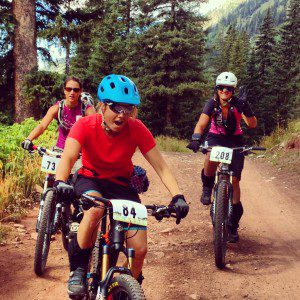 The racers were shuttled to Stage 1 were they had to climb an additional 1,500 feet to reach the top of Kennebec Pass. The true backcountry format of this race challenged even the most fit of riders. Liz brought the beats with her Jammy Pack to keep the mood fun and light. The tunes served as backdrop for prerace yoga session and dance party.
The weekend had many victories and many disasters. Dylan Scott was there on an old school Kona jamming out with the ladies on the transitions. In fact he almost caught Tricia as they raced toward the finish on Stage 2. His ear to ear grin could be seen for miles beneath his massive handlebar mustache. He was admittedly hooked on this enduro thing. Rick Ianniello was riding like a man possessed after taking a nasty crash pre-riding that left him with a dislocated shoulder. His injury didn't stop him as he was determined to finish his race weekend.
On day one Stage 2, Art took a hard fall. Carmen and I were at the finish with water, beer and snacks. Art rolled up exhausted, bleeding and concussed. Dude was hurt. His head was badly bruised and his front tooth chipped. We loaded him up in the truck and got him some cold water and an ice pack. Once back in town, Leigh, Meredith and Mike took Art to the ER. His weekend of racing was over but luckily he wasn't severely injured.
The crew went on to finish strong. Meredith Watrobka and Leigh Bowe were both on the top step for the amateur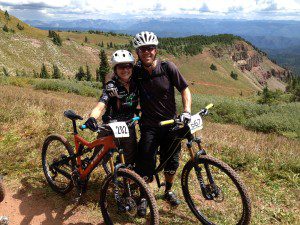 women 19 – 29 and 30 – 39, respectfully. Liz Cunningham was 5th in the 30 – 39. Sienna Martin rode hard and finished in one piece despite dropping her rear wheel and taking a hard crash. The men did great too – Eric Purcell, Matt Thoele, Ryan Schantzenbach, Dylan Scott and Trevor Martin all put in solid rides. Matt had a wardrobe malfunction when he tore his shorts in half but he maintained his pride. Ryan Chambers and Jamie Landry tore it up couple style and Liz Sampey was onsite to provide her expertise with post ride massage and soft tissue work.
Bikes, beers and new friends – I was enjoying living in the moment and taking this lone wolf adventure to a new wolf pack level. Tricia and Colin were so awesome. The majority of us ending up staying at their house scattered about the couches, floor and even the deck. We made food, took tequila shots and watched the World Cup Downhill race.   Many new friends connected on this 4 stage race weekend turned epic journey. Everyone has their own account of this weekend, but this was the weekend many of us connected. Bonds were made through the blood, sweat and beers in Durango that year.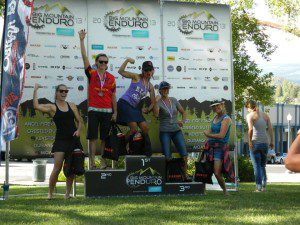 We concluded the weekend with drinks and food in town. I left early Monday morning, continuing my journey to ride Wasatch and experience Telluride for the first time. Traveling back to Denver I felt charged. I was physically exhausted but I didn't want to rest. All I could think about was how I wanted to keep riding and exploring with this crew.
The coming months included many more day rides and road trips together. I was stoked to find my people. I was connecting with tons of new riders and most of the people I was meeting had been riding for years. I, being new to Colorado and to mountain biking, was on mission. I wanted to ride a ton and see all Colorado had to offer beyond the Front Range.
Our newly formed crew was always up for an adventure. The text and Facebook messages were coming in almost daily. Summit County, Keystone Resort, Vail, Buffalo Creek, Grand Junction and Moab became some of the frequented locations. We were all riding a ton. Then it happened – what had originally been planned solely as Liz Cunningham's birthday weekend quickly turned into Burning Bike/Strider Huge Rock Enduro. It was November of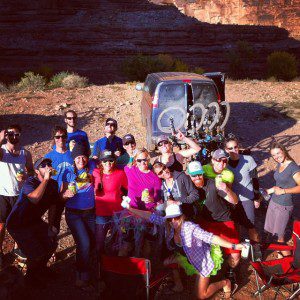 2013 when about 30 friends gathered in Moab to end the season properly. We rode the best Moab trails, partied, danced and raced Strider Bikes on a 2 stage enduro course. The fun level was through the roof! It got rowdie. From that weekend on, the crew was solidified. We were a community. We all brought something to the table. We all loved biking and put forth the effort to make it happen. We were on to something.
Fast forward to spring 2014. I was struggling with some health problems, but I didn't let it me slow me down. I was road tripping and riding almost every weekend. Liz Cunningham and I headed back to Durango for Camp Bacon. Liz was moving and we wanted to get the crew together to shred before we lost her to California. After a very fun and exciting Burning Bike, she and I became good friends. We have very similar ideas of fun and organizing rad events. It was on this trip to Colorado's southwest that I shared my idea with her. Nothing really new or innovative; it was the simple idea to create a group so we could organize our communications about rides and mountain biking events.
ColoRowdies was born! I created the Facebook group with 10 or so of my closest riding buddies. It was created for friends to invite friends. That philosophy has lead up to 170+ members. However, the idea has evolved into much more than just planning rides. I'll explain with more detail in an upcoming post about what we have in store for 2015. Until then #stayrowdie
Words by Tony Bentley – Denver, CO // ColoRowdies President
Instagram :: @tony_bentley_2.0