So awhile back I dropped a bunch of hard earned money on a XX1 set up.  This was my first 1x and I freaking loved it.  The shifting, the chain lines, the fact your chain stayed on your chainring, the ease of tuning were all great.  But like everything bike related the honeymoon phase only lasts so long and the repair bills start coming in.  The first thing that needed replacing was the chain ring ($105), then I smashed the derailleur on a rock riding the Two Elks Trail in Vail ($275) and then the 42 tooth ring on the cassette started to go bad ($285).  I also bought another bike that had X01 on it and keeping 2 1×11 set-up's in good working condition can be very expensive. 
So instead of dropping $700 to repair the 3 worn out parts on my back-up bike I decided to take a chance and put together a Franken-drivetrain of Hope, OneUp, Absolute Black, Shaimno Zee and XX1 parts.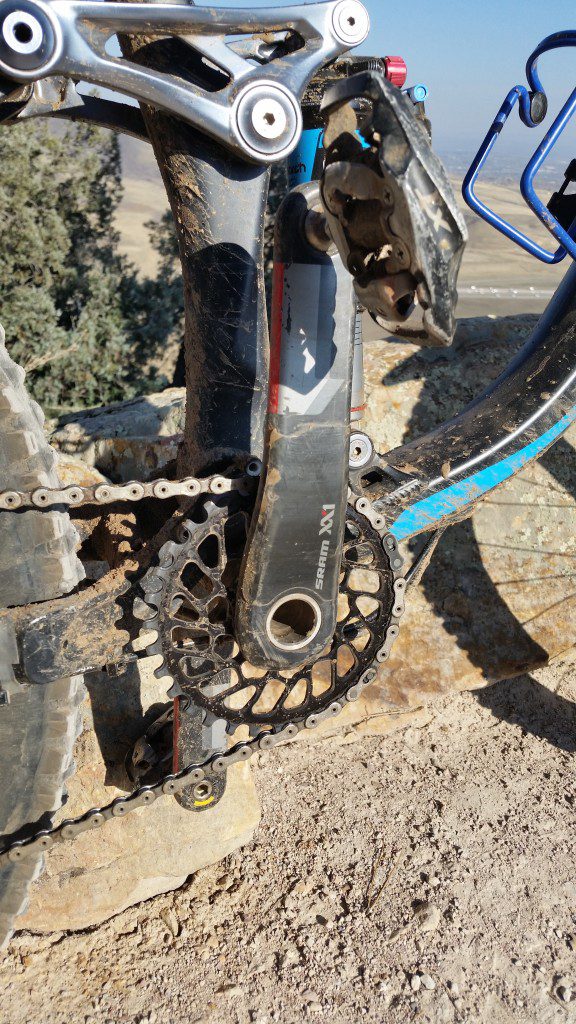 First the XX1 crank.  So the XX1 Crank has quickly become the unwanted step child of the carbon crank world.  Not because of any flaw of the crank but the $100+ chain rings that it eats up at a high rate.  Solution; Absolute Black Spiderless Chainring, or a Wolf tooth Spiderless GXP.  These rings run about $70, not as cheap as the $50 Race Face but a little better than the $100+ for XX1.  The nice thing is that you can pick up a XX1 crank off of Steep and Cheap or Craigslist for under $200.  That's not bad for carbon cranks. 
I have about 500 miles on this ring and have had one chain drop on the Long Horn trail of White Ranch Park.  Now this is after riding my bike on 3 dirty rides in a row without cleaning it.  So I can't really fault the chain ring too much.  Other than that it has a great chain line and is holding up well.
Now for the backend:  I went with a Zee trigger and derailleur because they're cheap, it's a clutched derailleur, and it has as short as possible derailleur cage and a OneUp RADr Cage that will fit the Zee.  The big things here are the clutched derailleur, the offset of the Radr cage and short-as-possible cage.  Clutched derailleurs do a better job of keeping chain whip to a minimum.  Chain whip is annoying and can lead to a dropped chain.   Keeping your cage short reduces the possibility of it getting left behind as you wiz past a rock as well as some other great shifting benefits and mechanical advantages.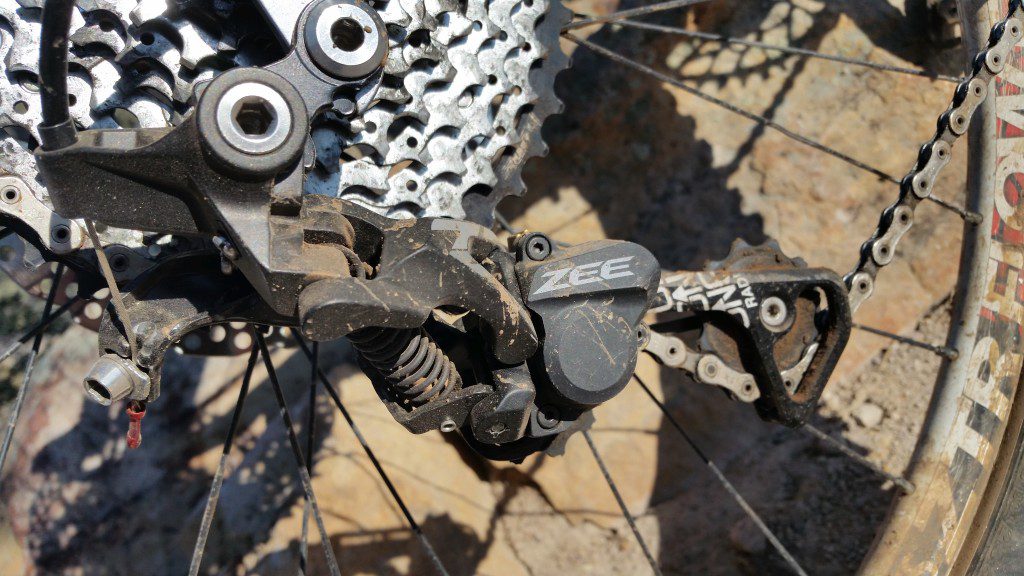 The RADr gives you the third big technological upgrade of XX1, an offset upper pulley that is better at moving the chain up and down extended range cassettes.  For a big ring I bought the 40 tooth Hope ring.  Also to have things shift better I picked up a OneUp Components 16 tooth sprocket.
The RADr cage was not that hard to install.  Tips from me are crack a beer and have something you can watch their installation video on.   Also do it somewhere where no one will bother you for about 15 minutes.  Have a clean work area so dropped parts don't go far.  
Everything has been working together really well.  The shifting is smooth, there is minimal chain whip and only one dropped chain.  The one drawback is that the range of the cassette starts to get noticeably small.  The range of this system is 390% versus the 410% range of a 1×11 system.  (Meaning the gear ratio of the fastest gear is 390% faster than the gear ration of the slowest gear.)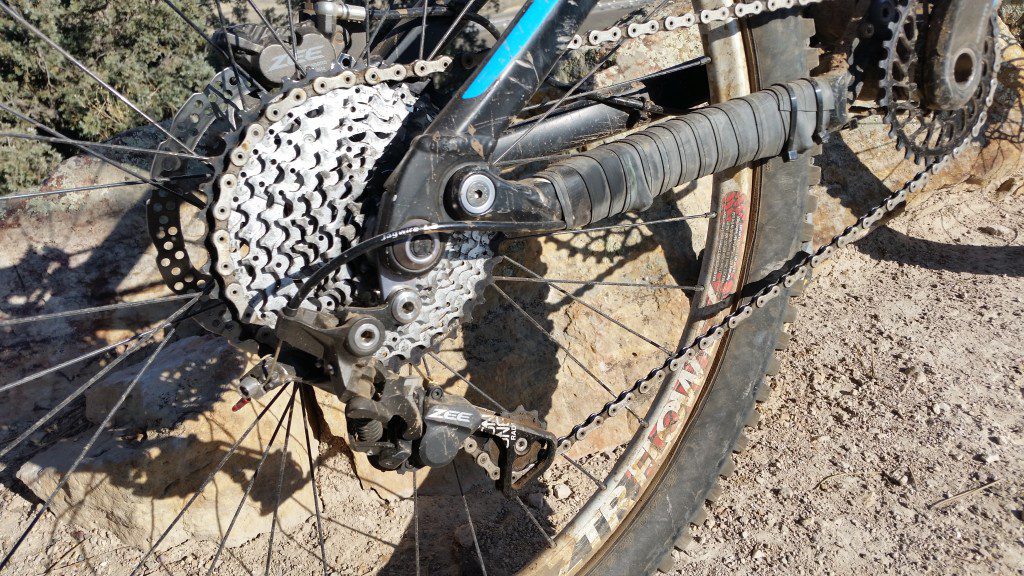 Yes, I could have gone with a 42 tooth instead of a 40 tooth but there difference there is minimal (5%).   You just might experience some difficulty in dialing in a good front ring that lets you climb well but not spin out.  Other than that I have been happy with the set up.  I would defiantly swap out to an extended range 1×10 like this if I got a new bike with a 2×10 set up.  Let's just hope SRAM GX is gets really cheap and in a year or 2 pretty much every new bike comes with a 1×11 drivetrain of one level or another.  Until then I hope this helps and gets a few more front derailleurs off the trails.  Happy riding and #getrowdie
Words and images // Matt Thoele :: Golden, CO